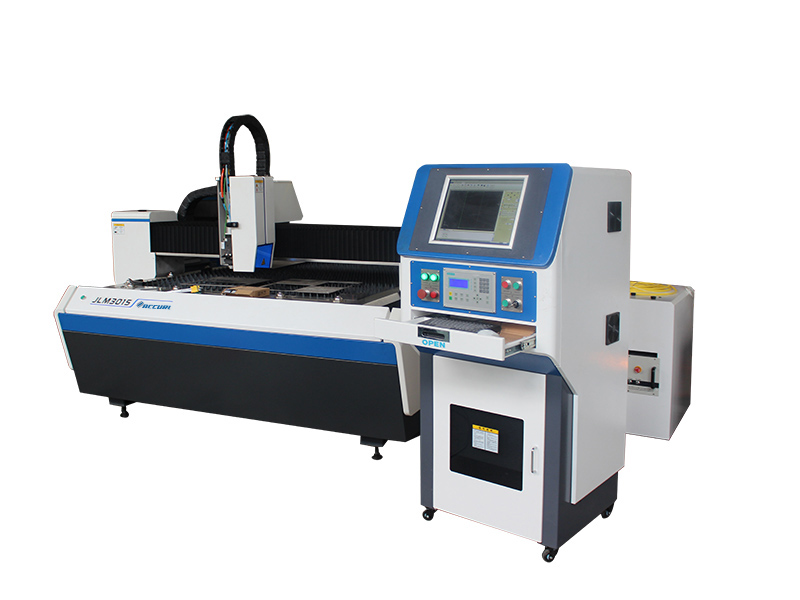 2000W China Widely Used CNC fiber laser tube cutting steel machine for sale
1.Description
Peiriant Torri Laser integrates optical, mechanical and electrical technology into one machine, which adopts laser technology, computer control technology and high-performance CNC (computer numerical control) laser power system. Laser Cutting Machine is capable of processing all kinds of sheet metal with high speed and efficiency. 2000W China Widely Used CNC fiber laser tube cutting steel machine for sale
Peiriant Torri Laser ACCURL3015IIIWJAT-2000 is applied in both metallic sheet and pipes cutting. The maximum size of sheet it can cut is that 3000mm×1500mm, the maximum size of pipes is that thickness 3mm, length 6000mm, round pipe Ф25-Ф160mm, square pipe 25mmx25mm-100mmx100mm (diagonal 30mm-160mm). The products will have smooth edge with high quality surface finish, small kerf width and little heat effect. The machine is especially suitable for cutting metal sheet or pipe.
2.Components of Equipment
1)Laser
IPG-2000W Fiber Laser
(1)Laser output power 2000W
(2)Laser wavelength 1070nm
(3)Output energy modulating 10%-100%
(4)Input Power <8KW
(5)Working Temperature 15-35ºC
2)Fiber-optical Laser Cutting Head
The Laser cutting head adopts German technology, equipped with QBH fiber output connector, special optical lens, sealed accurate focus adjusting method, and fast capacity transducer with minimum cutting gap 0.2mm, which could increase cutting speed and reduce gas consumption.
3)Machine tool
The machine adopts gantry structure, beam and bed are in a single process with high precision, good rigidity, smooth operation.
Machine base: The base uses the high quality welded tube and frame structure, through professional welding, secondary aging treatment, large precise gantry milling machine, precision machining, these designs and processing methods ensure the excellent shock resistance, high rigidity and stability of the machine.
Deslagging system: The blanking collector is arranged at the lower part of the bed, which can remove waste and collect small parts during the cutting.
Dust removal system: The work platform uses the dust collection design to remove the dust and exhaust gas.
Automatic exchange worktables: Two automatic worktables can achieve a smooth and rapid exchanging, which shorten loading and unloading time, enhance cutting efficiency and reduce labor intensity.
Encloser: Fully enclosed cover can maximally protect personal safety and reduce dust pollution.
4)Transmission System
The machine tool adopts gantry double driving structure and high damping machine tool bed, with good rigidity which can suffer high speed and acceleration, Imported AC servo system and driver system, imported gear and rack transmission, linear guide track for guiding, to ensure the high speed, high precision and high reliability of the machine.
5)Control System
Fiber laser cutting system includes laser cutting process, normal stock layout function and laser processing control. It mainly has drawing process, parameters setting, user-defined cutting process edit, stock layout, route planning, simulation and cutting control. The cutting power could be adjusted with the cutting speed. The individual pull in and pull out speed could be set. It also has material process library, which could save all the process parameters for the same material.
6)Red Light Indicating System
The coaxial red light is used as the indicator to make it simple to adjust optical system and more accurate to posit working point.
7)Cooling System
The water cooling system is equipped and the temperature could be indicated. The water cooling system would start working automatically when the temperature is higher than the preset value and stop working automatically when the temperature is below the preset value.
8)Exhaust Fan
The centrifugal blower remove the dust to maintain a good working environment and reduce the harm to personnel safety and equipment.
9)Rotary Clamp
Rotary clamp can hold round pipe Ф25mm-Ф160mm, square pipe 25mmx25mm-100mmx 100mm (diagonal 30mm-160mm), with thickness 3mm, length 6000mm. Material supporting device can be kept stable for a long time to work.
Pwer allbwn laser

2000w

Tonfedd laser

1070nm

Laser medium

Glass fiber with rate-earth element

Laser beam quality

<0.373mrad

Min beam width

≤0.125mm

Max range for X axis

3000mm

Max range for Y axis

1500mm

Max range for Z axis

250mm

Axial accuracy

≤ ± 0.05mm / m

Repeat accuracy

≤ ± 0.03mm / m

Max size for cutting (XY axis)

3000mmx1500mm

Max thickness of cutting carbon steel

16mm (Optimum thickness 0.5--12mm)

Max thickness of cutting Stainless Steel

8mm (Optimum thickness 0.5--7mm)

Max size of cutting metal pipes

round pipe Ф160mm

square pipe 100mmx100mm (diagonal 30mm-160mm)

thickness 3mm, length 6000mm

Cyflenwad pŵer

380V / 50HZ
Peiriant torri laser ffibr advantages:
1. Ansawdd rhagorol y trawst ysgafn: facula ffocws bach, llinell dorri cain, effeithlonrwydd gweithio uchel, ansawdd prosesu gorau.
2. Cyflymder torri uchel: 2 gwaith gan beiriant torri laser co2 gyda'r un pŵer.
3. Sefydlogrwydd uchel: mabwysiadu souce laser ffibr wedi'i fewnforio o'r radd flaenaf gyda chyweirnod sefydlog, gallai hyd oes rhannau allweddol fod yn 100,000 awr.
4. Effeithlonrwydd uchel trosi ffotodrydanol: mae peiriant torri laser ffibr 3 gwaith gan beiriant torri laser CO2, effeithlonrwydd ynni a diogelu'r amgylchedd.
5. Isel gan ddefnyddio cost: dim ond 20-30% o beiriant torri laser CO2 o dan yr un pŵer yw crynhoad pŵer peiriant torri laser ffibr.
6. Cost cynnal a chadw isel: heb nwy gweithio ar gyfer ffynhonnell laser; heb adlewyrchu lens ar gyfer trosglwyddo ffibr.
7. Gweithrediad cyfleus: nid oes angen addasu'r llwybr optegol gyda throsglwyddiad ffibr.
8. Effeithiau optegol meddal cryf: cyfaint a strwythur cryno, hyblygrwydd hawdd ei weithredu.
9. Mabwysiadu strwythur gyrru dwbl Gantry, gwely offer peiriant tampio uchel ar gyfer cyflymder uwch a chyflymiad.
10. Mae'r model hwn yn mabwysiadu gyrrwr system servo AC wedi'i fewnforio a system drosglwyddo wedi'i fewnforio, mae strwythur symudol offeryn peiriant yn mabwysiadu trosglwyddiad gêr a rac wedi'i fewnforio, trac canllaw llinellol ar gyfer tywys, gan sicrhau cyflymder uchel, manwl gywirdeb uchel a dibynadwyedd uchel offer.
11. Mae rac a chanllaw yn mabwysiadu dyfais amddiffynnol gaeedig lawn, sy'n atal symudiad ffrithiant di-olew a llygredd llwch, yn gwella defnyddio bywyd rhannau trawsyrru ac yn sicrhau manwl gywirdeb symudiad offer peiriant.
12. System rheoli cnc peiriant torri laser proffesiynol, gweithrediad cyfrifiadurol ar gyfer torri manwl gywir a gweithrediad cyfleus.
Utility requirement
The user shall provide good environment for the equipment such as level floor for equipment placement without strong motion, clean and dry environment without dust, 5-350C for equipment working. Working power supply should be provided: three-phrase five-line power 380V/50HZ. The user shall prepare air compressor (more than 0.6 square meters per minute for air displacement, more than 1.0Mpa for air pressure), hydrogen, nitrogen and distilled water for cooling use (about 70L).
Manylion Cyflym
---
Cyflwr: Newydd
Man Tarddiad: Anhui, China (Mainland)
Enw Brand: ACCURL
Foltedd: 380V
Rated Power: 12kw
Dimension(L*W*H): 3000mm*1500mm
Weight: 9000, 9000kg
Ardystiad: CE ISO SGS FDA
Warranty:1 Year
Gwasanaeth Ôl-werthu a Ddarperir: Peirianwyr ar gael i wasanaethu peiriannau dramor
Application: steel sheet metal and tube cutting
Product Name: 2000W fiber laser cutting machine
Laser Medium:diode-pumped continuous yb-doped fiber
Laser Wavelength: 1070nm
Power Requirement: 380V/50HZ
Driving System: Imported servo motor
Amser Gweithio Parhaus: 24 awr
Min Line Width: less than 0.1mm
Dimension: 3000mm*1500mm
---
peiriant torri laser cryno
,
peiriant torri laser bach ar werth